Current Issue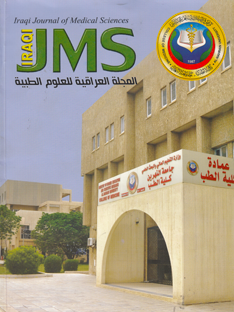 Iraqi Journal of Medical Sciences
Editor in chief : Professor Haider Sabah Kadhim PhD
P- ISSN 1681-6579
E- ISSN 2224-4719
DOI: 10.22578/IJMS.
Frequency : 4 per year
The Iraqi Journal of Medical Sciences is published quarterly by the College of Medicine, Al-Nahrain University and accepts English-language manuscripts in all fields of medicine and related health sciences. Emphasis is placed on matters relating to medicine in Iraq in particular and the Middle East in general ...
View full aim and scope.
Previous issues

Supplements

Supplement Vol 4 (0)
Supplement Vol 3 (0)
Supplement Vol 2 (0)
Supplement Vol 1 (0)

In this issue - Vol. 18 Issue 2 July - December 2020

The Potential Role of Human Herpes Virus-6 in Idiopathic Facial Nerve Paralysis
Rafal H. Rhaif, Asmaa B. Al-Obaidi, Abdul Kareem K. Al-Khazrajee
Abstract | PDF

Association of CD46 Cellular Receptor Gene SNP in Measles Vaccine Response
Sarah A.J. Al-Gburi, Haidar Sabah Kadhim, Haider F. Ghazi
Abstract | PDF

The Validity of Different F Wave Parameters in The Diagnosis of Diabetic Axonal Polyneuropathy
Zaineb A. Yaqoub, Hussein G. Kaddori, Farqad B. Hamdan
Abstract | PDF

Iraqi JMS in advance

Higher ST-segment elevation in lead III than lead II in acute inferior myocardial infarction can be a predictor of short-term morbidity and mortality

Thank you reviewers

The growing success of Iraqi Journal of Medical Sciences can be accredited to the work of many people. The Editors of Iraqi Journal of Medical Sciences would like to thank the many peer reviewers who have spent freely their precious time reviewing the manuscripts for the Journal. Their useful comments improved the quality of the articles, increased the accuracy, readability and the overall scientific standard of the Journal.

We are very grateful to all of the

Reviewers

, with their significant support, the Journal continues to develop.

We greatly appreciate the contributions made by the following scientists, who worked as editors and referees for our journal between 01.01.2017 and 31.12.2017.

Publisher information

Iraqi Journal of Medical Sciences is published by College Of Medicine / Al-Nahrain University

Find us on facebook

Visits
Creative Commons Attribution
This work is licensed under a
Creative Commons Attribution-NonCommercial-NoDerivs 3.0 United States License
.